Ditch the hustle and bustle of the city and transport yourself to a place of serenity, tranquility, and bliss. Here's why we think a goddess yoga retreat at the magical Lago d'Orta in Italy is one of the best yoga retreats 2023 has to offer. Its the perfect European getaway this summer and promises to leave you with an experience you'll never forget.
Imagine the feel of the warm sun on your skin, the sound of the birds chirping in the background, and the peacefulness of the waterfront as you practice yoga and connect with nature. Our retreat offers the perfect balance of relaxation and adventure, with yoga classes, delicious meals, and a variety of excursions and activities. But, at Goddess Yoga retreats, we offer something even more, such as tarot card readings, shamanic practices, trance dance gatherings and more.
Where else can you connect with nature and still have an itinerary full of culture, history, and the best adventures Europe has to offer, and also have an amazing spiritual experience? That's why Goddess Yoga Retreats rank at the top for best yoga retreats 2023. So, get ready to make memories that will last a lifetime!
Ready to Embody the Mystery of the Tarot?
Discover the magic of Divine Feminine Tarot at our live mystical yoga, dance and somatics wellness retreats! Unleash your inner divine goddess at our all-inclusive magical events!
Escape the Ordinary: Uncover a World of Magic and Mystery in Italy!
Italy is a beautiful country filled with magic and mystery. It's the perfect place to escape the ordinary and immerse yourself in a world of wonder.
From the winding streets of Rome to the awe-inspiring canals of Venice, Italy has something for everyone, and its easy to move from one place to another. Whether you're looking to explore the ancient ruins or relax on the beaches of the Mediterranean, Italy is the perfect place to uncover a world of magic and mystery.
Italy offers a wealth of opportunities to explore and discover, especially because everything in Europe is really close together and easily accessible by train, car or plane. Whether you're looking to explore the ruins of the ancient Roman Empire or discover a hidden beach, Italy has something for everyone.
With its unique blend of culture, cuisine, and natural beauty, Italy is the perfect place to escape the ordinary. When you're looking for the best yoga retreats of 2023, getting an all around magical experience is what sets some retreats apart from the rest!
Discover Prada, Gucci and Gothic Architecture in Milan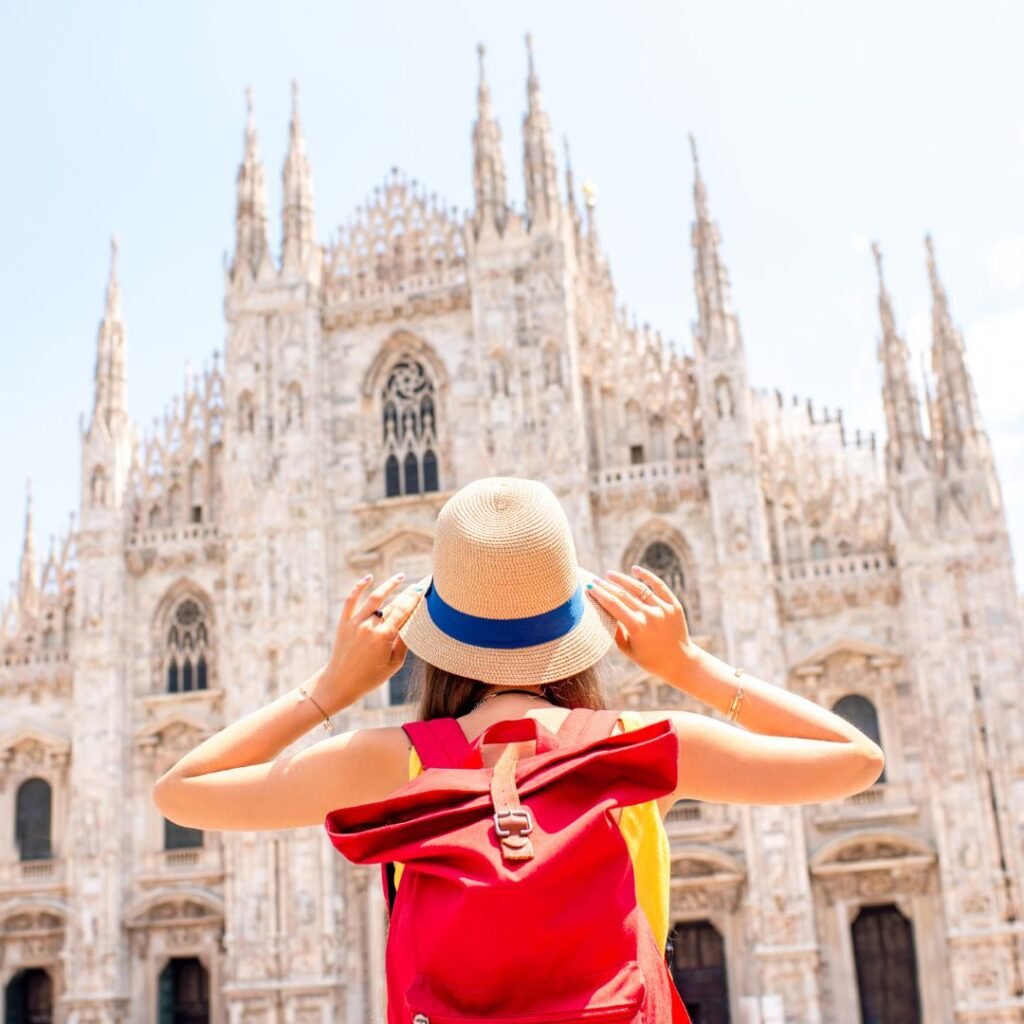 Milan is a vibrant city full of opportunity to explore and discover. From the world-famous fashion houses of Prada and Versace to the breathtaking Gothic architecture at the Duomo di Milano, the city is teeming with culture and history.
With the added convenience of being just 45 minutes away from Lago d'Orta, where the summer 2023 retreats will be taking place, why not add a visit to Milan to your Goddess yoga retreat vacation?
From exploring the iconic shopping districts to indulging in the delicious Italian cuisine, there's something for everyone to enjoy in Milan. You can take a relaxing stroll through the streets of the city and soak up the atmosphere, or take a boat tour of the canals and admire the beautiful views. With so much to offer, it's no wonder that Milan is one of the most popular destinations in Europe.
So, Spend your days learning to reconnect with your body and soul on our amazing goddess yoga retreat in Lago d'Orta Italy, definitely one of the best yoga retreats 2023 has to offer. Then, once you have finished your inner journey, why not explore the beauty of Milan with a day trip!
Our incredible team of guides can arrange the perfect trip for you. Immerse yourself in the culture, art, fashion and cuisine of Milan, the perfect destination for a memorable day of sightseeing. So join us on our yoga retreat and finish off the experience with a day trip to the magical city of Milan.
Immerse Yourself in the Magic of Lago d'Orta this Summer
The lush and picturesque region of Piedmont, Italy, is home to some of the most magical and breathtaking scenery throughout the entirety of Europe. Located in the northwestern corner of Italy, the region's rolling hills and mountains provide a stunning backdrop for the many ancient villages and towns that line the area. One of the most beautiful of these villages is Lago d'Orta, located close to the stunning Lake Orta.
Lago d'Orta is a charming village that is nestled on the banks of Lake Orta, offering visitors a stunning view of the lake and its surrounding mountains. Visitors to Lago d'Orta can explore the cobblestone streets and take in the quaint atmosphere of the village. Many of the buildings in the village are centuries old, and the village is home to several ancient churches, with the main church, San Giulio, located on its own picturesque island in the middle of the lake.
In addition to the stunning scenery, Lago d'Orta also offers visitors a wide variety of activities and attractions to enjoy. From boat trips around the lake to wine tasting at the local vineyards, visitors can find something to suit their tastes. The area is also known for its excellent cuisine, with plenty of traditional Italian dishes to sample. Whether you're looking for a peaceful retreat or an action-packed adventure, Lago d'Orta is the perfect destination for your European vacation. There's a reason why Lago d'Orta is referred to as Italy's best kept secret. When Lake Como gets too crowded, the Italians head to Lago d'Orta. And this enchanting location makes these Goddess Yoga retreats some of the best yoga retreats 2023 has to offer.
Revel in Italy's Rich History and Culture: A Summer Vacation You'll Never Forget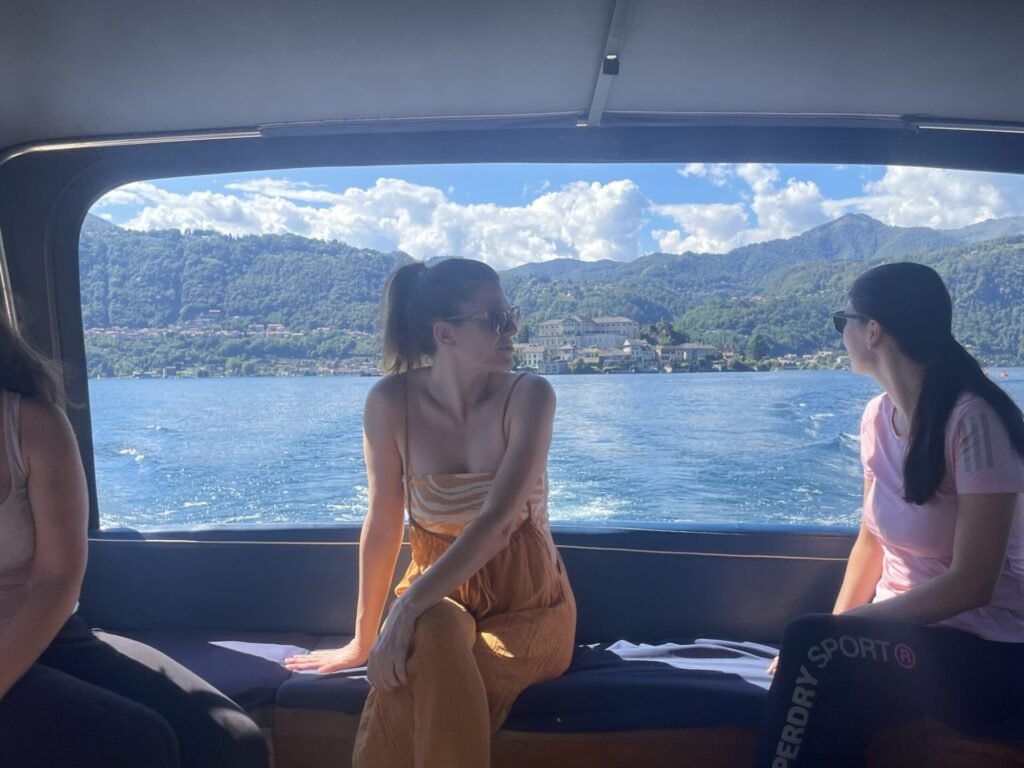 Our retreat offers a unique opportunity to experience Italy's rich history and culture. From learning about the country's ancient roots in Roman and Medieval times to exploring its modern-day art, music and cuisine, you'll be able to immerse yourself in the culture and learn about its deep-rooted history.
As part of the retreat, you'll also be able to take part in some amazing activities, from yoga and meditation to outdoor hikes and boat trips.
This Goddess Yoga retreat will be an unforgettable experience, one that will leave you feeling refreshed and relaxed. You'll be able to explore and learn about Italian culture and history, as well as enjoy some of the country's most beautiful and breathtaking landscapes.
Whether you're looking for a relaxing holiday or a chance to immerse yourself in another culture, this is the perfect opportunity. So don't miss out on this best yoga retreat of 2023- book your place today and revel in Italy's rich history and culture this summer!
Say Ciao to Stress and Sììì! to Relaxation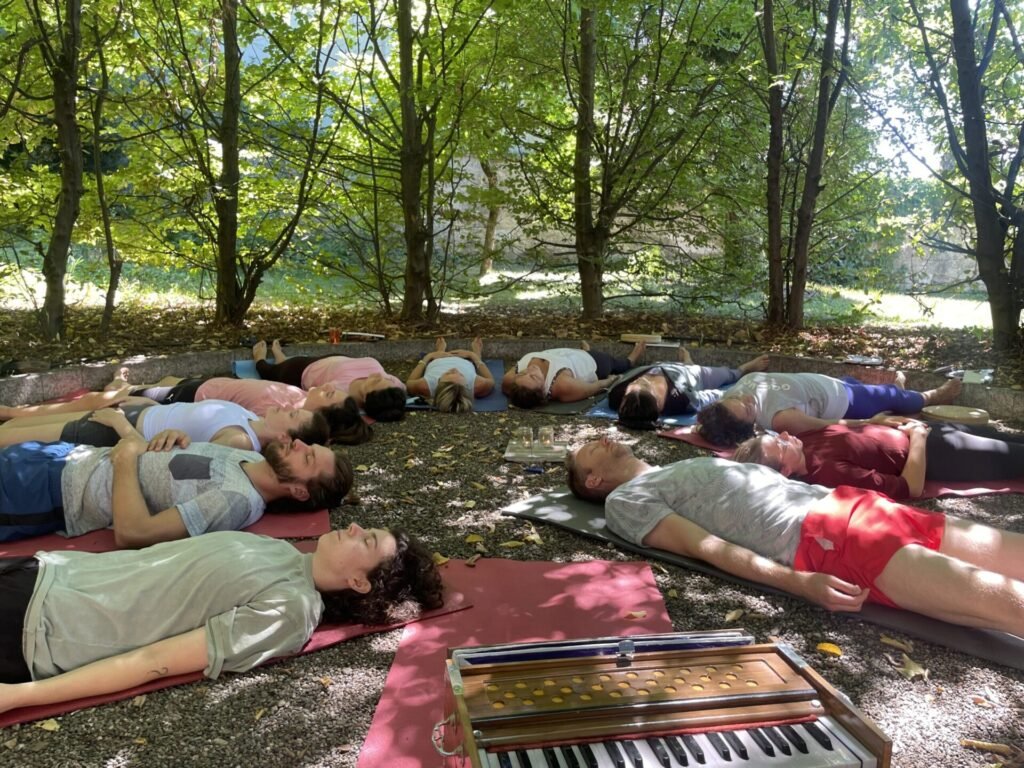 Are you feeling stressed out and in need of a vacation? Say 'Ciao' to stress and 'Sììì!' to relaxation on an unforgettable European summer vacation when you join us for our three luxurious weeks of Goddess Yoga Retreats in beautiful Lago d'Orta Italy! We are so excited to share this special experience with you.
At our retreats, we provide an escape from the everyday stress and worries of life. From daily yoga practices to meditation, you will have the opportunity to relax your body and mind and reconnect with your inner goddess.
We also have plenty of time for exploring the stunning local area and taking in the beautiful views of Lago d'Orta. This is the perfect place to take some time for yourself.
Our Goddess Yoga Retreat will also provide you with the opportunity to learn new skills and techniques to help you manage your stress levels in the future. We provide a variety of classes and workshops to help you learn how to manage your breathing, how to practice mindfulness, and how to use yoga and meditation to help you stay connected to yourself. Our experienced and knowledgeable teachers will be on hand to guide you through each step of the journey, giving you the tools and the confidence to take control of your stress and ultimately find a way to relax.
Best Yoga Retreats 2023 – So, what makes for an amazing yoga retreat anyway?
An excellent yoga retreat should provide participants with a chance to relax, unwind, and learn more about their yoga practice. The retreat should provide daily yoga classes, which are tailored to the individual's skill level and interests. It should also include plenty of group activities and discussions on the philosophy of yoga and mindfulness. A retreat should also offer plenty of free time so that participants can explore their own practice and meditate.
Nutritious meals
An excellent yoga retreat should also provide participants with nutritious meals that are designed to nourish and fuel the body. The retreat leader should also encourage participants to make healthy food choices, such as avoiding processed foods and opting for seasonal fruits and vegetables. It should also provide plenty of opportunities for relaxation, such as massage or spa treatments, or even just time to sit and enjoy the serenity of nature.
Experienced teachers
Finally, an excellent yoga retreat should be led by an experienced and knowledgeable instructor who is passionate about yoga and can provide guidance and support throughout the retreat. The instructor should be patient and understanding, and should be able to work with each participant to ensure that they get the most out of the retreat. An experienced instructor can also help to create a safe and supportive environment that encourages personal growth and development.
At Goddess Yoga Retreats, you can be assured that we meet ALL of these best practices and more! Our teachers are top-notch and lots of fun too!
Why Goddess Yoga Retreats are the Best Yoga Retreats 2023
Goddess Yoga retreats are truly special because they offer something more than just the typical yoga, meditation, and cultural excursions. At our retreats, we also provide an array of unique experiences such as embodiment dance, ecstatic dance, soundbaths, and tarot card readings.
Embodiment dance
Embodiment dance is a powerful way to connect with your body and to express yourself in a safe and supportive environment. During the embodiment dance sessions, we guide you through movements that are designed to release tension and to help you become more in tune with your body.
Ecstatic dance
Ecstatic dance is a great way to express yourself through movement and to become more attuned with your physical body. In our ecstatic dance classes, we provide guidance on how to safely and freely express yourself through dance.
Soundbaths
Soundbaths involve lying down and listening to beautiful and relaxing sounds such as singing bowls, chimes, and drums. During a soundbath session, you will be guided on how to relax and to become more in tune with the calming sounds that are being played. Vanessa Hylande will be personally guiding you through live musical soundscapes, using voice, piano, kalimba, harmonium and more.
Tarot card readings
During our tarot card reading sessions, our experienced tarot readers will provide you with intuitive readings that are designed to provide insight into your current life circumstances. Tarot card readings are a great way to gain insight and clarity into your life and to help you gain a better understanding of your current situation.
At Goddess Yoga retreats, we are dedicated to helping you on your journey of self-discovery and to provide you with experiences that will help you to connect more deeply with yourself and the magical world around you.
Massages, Pedicures and Witchy Wine Tours, Oh My!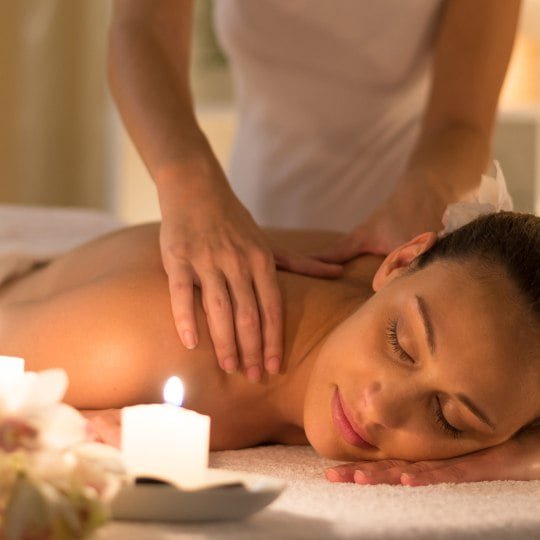 At our Goddess Yoga retreats, we offer a variety of special add ons that are sure to give you a truly magical and memorable experience. Whether you want to relax and de-stress with a body therapy session, get a glimpse into the future with a tarot card reading, or pamper yourself with a manicure or pedicure, we have something for everyone.
For those looking for an extra special treat, we also offer a witchy wine tour through Omegna. This tour gives you a unique insight into the area's winemaking traditions and its magical folklore, as you explore the vineyards, taste some of the region's best wines, and enjoy some traditional Italian cuisine. Our experienced guides will be sure to make your tour a truly enchanting experience.
We understand that taking a break from your everyday life can be a daunting prospect, so we want to make sure that our Goddess Yoga retreats are as stress-free as possible. At our Goddess Yoga retreats, we want you to have an unforgettable experience. That's why we offer a range of special add ons to help you make the most of your time here.
Choose from THREE Weeks of Inspirational Yoga Retreats this Summer 2023!
2023 yoga retreats, all inclusive european vacations, best yoga retreats 2023, cheap european vacations, emotional wellness, european vacation, goddess yoga retreats, health and wellness, physical wellness, spiritual wellness, summer in italy, travel italy, trip to italy, vacation italy, wellness retreat 2023, yoga retreat 2023, yoga retreat europe, yoga retreat italy, yoga retreats