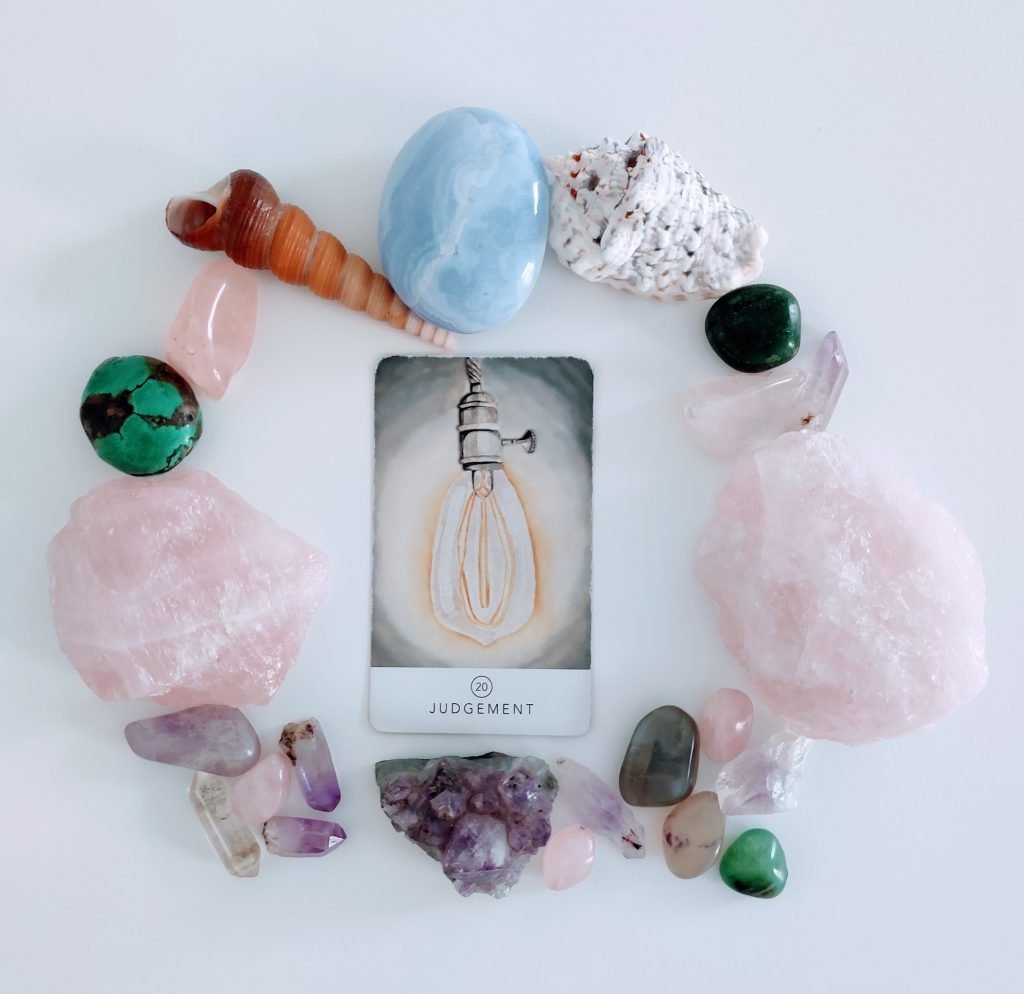 You have begun a spiritual awakening that was brought on by honest self-reflection. The Judgement tarot card represents a profound transformation with no looking back.
Do you struggle to make decisions? Are you looking for guidance? Do you want to know what is going on in your life? Is there a time when you wish you could ask the cards for help?
If so, then you might want to read more about the Judgement tarot card meaning. 
A tarot card reading isn't just for entertainment. It's a powerful instrument for tapping into the wisdom of the universe and getting a deeper understanding of your life.
The Judgement Tarot Card is one of the most interesting and influential cards in the whole deck. It represents our judgement, decision-making abilities, character, and other things that make up the person we are.
What does this card tell us about our self-image? In a nutshell, it can show us a lot about our self-worth and how others perceive us. The Judgment Tarot Card can be a big help in revealing what you really think about yourself.
But what is the Judgement tarot meaning?
In this blog post, we will explore the meaning behind the Judgment tarot card, as well as how this card can relate to your life and how it can help you make better decisions.
The Judgement Tarot Card Summarized
The Judgment tarot card is one of the most powerful and influential cards in the tarot deck, and it represents judgment and judgmental people. It is an archetype of the world of the living, and its meaning is that of a judgment that we can expect from life and from our actions.
It represents the way in which we choose to respond to a situation or situation.
In the Judgment tarot card, you're getting an insight into what's going on in the present moment and you're being given the chance to make a decision that will have a positive or negative impact on your future.
It is the card of decisions and change. The Judgment card is often found in a reading when there are changes happening in someone's life. You are entering a new phase of your life. This shift might be positive, negative, or neutral. You should be conscious of what this change implies for your life and how it affects you.
The Judgment tarot card symbolizes the end of a cycle of time, where all the changes are completed. It represents the end of something or the completion of a task. It can also represent a new beginning or the start of a new journey.
In the Major Arcana, the Judgment card symbolizes the process of making judgments or decisions. The Judgment card is a card of discernment. It is a card of self-knowledge and awareness. and can be a card of judgment, decision-making, and choice. Also, it is a card of knowing who we are and what we want.
The Judgment tarot card reminds us that we should be careful about what we do and say since the results can be unpredictable. In other words, it is a card that indicates that our actions and words are significant, and that if we ignore them, we will suffer the repercussions. This card indicates a time when everything has an expiration date and nothing is permanent. It also signifies the necessity for judgment in our life, and if we do not assess things correctly, the repercussions will have a detrimental impact on our lives.
The Judgement Tarot Card Meaning in the Past Position
In the past position, the Judgment tarot card represents a time when someone is reflecting on their life and wondering what they should do with it. It demonstrates to the person the options available to them at this time. It can be a difficult or an easy option, but the Judgment tarot card shows the person the implications of their decisions.
If you draw this card in the past position, it may signal that you are choosing to be more conscious of certain aspects of your life, such as deciding how to invest your money or working more ethically. You may also be more aware of the people in your life who can assist you pick which path to take.
The Judgement Tarot Card Meaning in the Present Position
If your judgment card is in the Present position, you are in a position to decide which choices to make based on the circumstances at hand, and what the consequences will be.
The Judgment tarot card in the present position represents a time when you are making the most of the opportunities that have come your way, but you may be going through some personal difficulties. You may be thinking about how to get out of a situation, or you may be trying to understand why a certain event happened.
This means you're currently dealing with a situation or challenge that is a matter of judgment—one where there is no clear right answer or definite solution. The situation may be temporary, but it's still a challenge. In most cases, when we are dealing with a matter of judgment, the best course of action is to be open and receptive to information and feedback from others.
The Judgement Tarot Card Meaning in the Future Position
In the Future position, it is about making the best choice, based on what's best for your life. Judgment is often associated with making a decision, but it's also the process of deciding on your next steps. This card is about taking a step in a particular direction, and making a judgment about what's right for you, making a commitment to your goals.
A reading with this card in the future position usually indicates that the events that have been predicted are about to unfold.
The Judgment tarot card in the future position is not necessarily a time when you're having difficulty making a decision; it's more about seeing the bigger picture and making sure that the choices you're making are going to benefit you in the long run.
The Judgement Tarot Card in the Reverse
The Judgment tarot card in the reverse position shows us that our judgment about our own lives, and the world around us, can be inaccurate. It is critical to recognize when this occurs and how to rectify it.
The Judgment tarot reversed suggests that we are missing a piece of information in a situation, which can be an indicator of a hidden motive, or a misunderstanding of the situation. Sometimes we make quick judgments without taking into account all of the available information
The Judgment card in the reverse position might serve as a reminder to make sure that your decision is made after all of the facts are considered.
Your Love Reading and The Judgement 
The Judgment tarot card in a love reading is a sign that you are being given a chance to make a decision about a relationship. It indicates that you have the power to make wise decisions regarding your relationships and that you have the ability to choose your future. The Judgment card serves as a reminder to look at your current situation from a new perspective and to recognize that you have a choice in how you handle things.
It implies that it is time to explore what you truly require in a relationship.
If you're single, the card suggests that you are missing out on a great relationship because of your own lack of understanding of what you desire in a partner.
If you're in a relationship, the card warns against not completely appreciating each other or passing judgment too severely.
Your Career Reading and The Judgement Tarot card
In a career reading, the Judgment tarot card usually means a decision that will have a large impact on your life, either in the short-term or long-term.
Judgment tarot card in a career reading may also indicate that your choices will have a positive impact on your life, and your career. It signifies a time of personal growth and development. This could be the beginning of a new career or the growth into new areas of competence. This card is often associated with the idea of a fresh start, and a new beginning.
Your Health Reading and The Judgement Tarot card
Judgment tarot card is a very crucial card in a health reading since it can reveal the truth about our health and whether or not we are doing the proper things for our bodies.
The Judgment card is unquestionably a good thing in terms of health. It denotes a period of healing and completeness. You've finally decided to take the actions necessary to help you recover from a long-term sickness. Or perhaps you've finally gained the strength to break harmful behaviors that are harming your health.
Your Spirituality Reading and The Judgement Tarot card
When the Judgment card emerges in a reading, it might represent a spiritual awakening or a time of profound insight. This could be a sign that you're on the right track to enlightenment.
The Judgment card represents self-judgment and self-awareness. It implies that you must examine yourself and your life to determine what is genuinely essential to you. It can also signify that you need to adjust your priorities if you have been ignoring your spiritual life.
Symbology of The Judgement Tarot card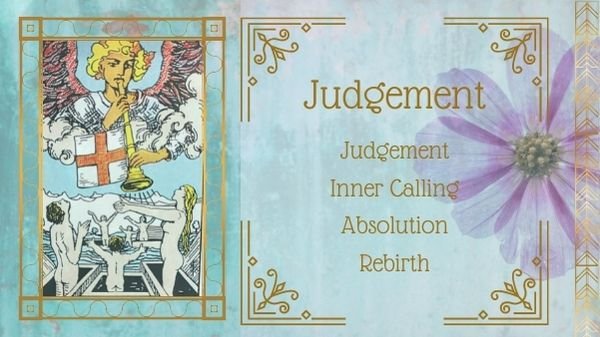 The Judgment card represents the decision-making process, the point at which we must choose between two alternatives. It is frequently interpreted as a metaphor of making a decision, of being resolute and committed to our choices.
The Judgment tarot card can be difficult to interpret as a tarot reader. It's a card of transformation. It's a card of endings, new beginnings, and the death of the old.
We must decide whether to stick with the old ways or to forge a new path. The Judgment tarot card has the potential to be a life-changing event. It could represent a crucial decision you've been putting off for a long time.
So, it represents the point at which we must make a choice, the point at which we must choose between two alternatives.
The Judgment tarot card is often used to symbolize a final verdict or a final outcome. In the Rider-Waite deck, the Judgment tarot card depicts an angel blowing the horn – a final call, a time for decision, as the dead rise from their coffins. It is to symbolize the end of a cycle and a time of reckoning.
How to embody the Judgement Tarot card
The Judgment card portrays all of the decisions we must make in our lives, and those decisions have consequences. It also provides us with opportunities to gain wisdom and knowledge, as well as to learn from our mistakes. But the important thing to remember is that we never know what we're going to get until we get it.
In the tarot deck, the Judgment card signifies the capacity to make decisions based on facts and circumstances rather than feelings. This skill can be used for good or bad in our daily lives. It is how we determine which of two possibilities is best for us and what we intend to do about it. If you read the Judgment card, it would most likely indicate that you need to gain control of your emotions before making a decision.
The Judgment card is all about accepting responsibility for your own decisions and actions, as well as making the most of the possibilities and difficulties that life throws at you. So, when it comes to deciding on your next career step, this card is all about you—and how you can make the most of what you have. The Judgment card indicates the point at which we realize we have a decision to make. We may either accept responsibility for our actions and accept the consequences, or we can blame others and pass the burden.
Judgment Tarot is an excellent deck to help us understand our own decisions and those of others. Whether it is personal or business related, it can help you figure out what you need to do to get back on track and where you have gone off the path.
In conclusion, the Judgment card is one of the most important cards in the tarot deck. It gives you the message of what you need to do to change your life. This is a card that can give you an opportunity to make a decision about what you want to do with your life. Whether you are in a relationship, looking for love, struggling with a job, feeling stuck, or simply trying to improve your life, the judgment tarot card can help you get a clear picture of what you need to change in order to move forward.


Want to learn more about embodying the tarot? Check out the Embodied Goddesses online ascension and manifestation experience.
Through meditation, chakra work, music, embodiment dance and other spiritual practices, this nine-module online course will teach you how to embody the gifts and lessons of the tarot.
Love our tarot decks? You can order your own online!
the judgement tarot card meaning
the judgement tarot card
the judgment tarot
the judgement card tarot
the judgment tarot card
meaning of the judgement tarot card
what does the judgement tarot card mean
the judgment tarot card meaning
the judgement tarot card meaning love
the judgement card in tarot