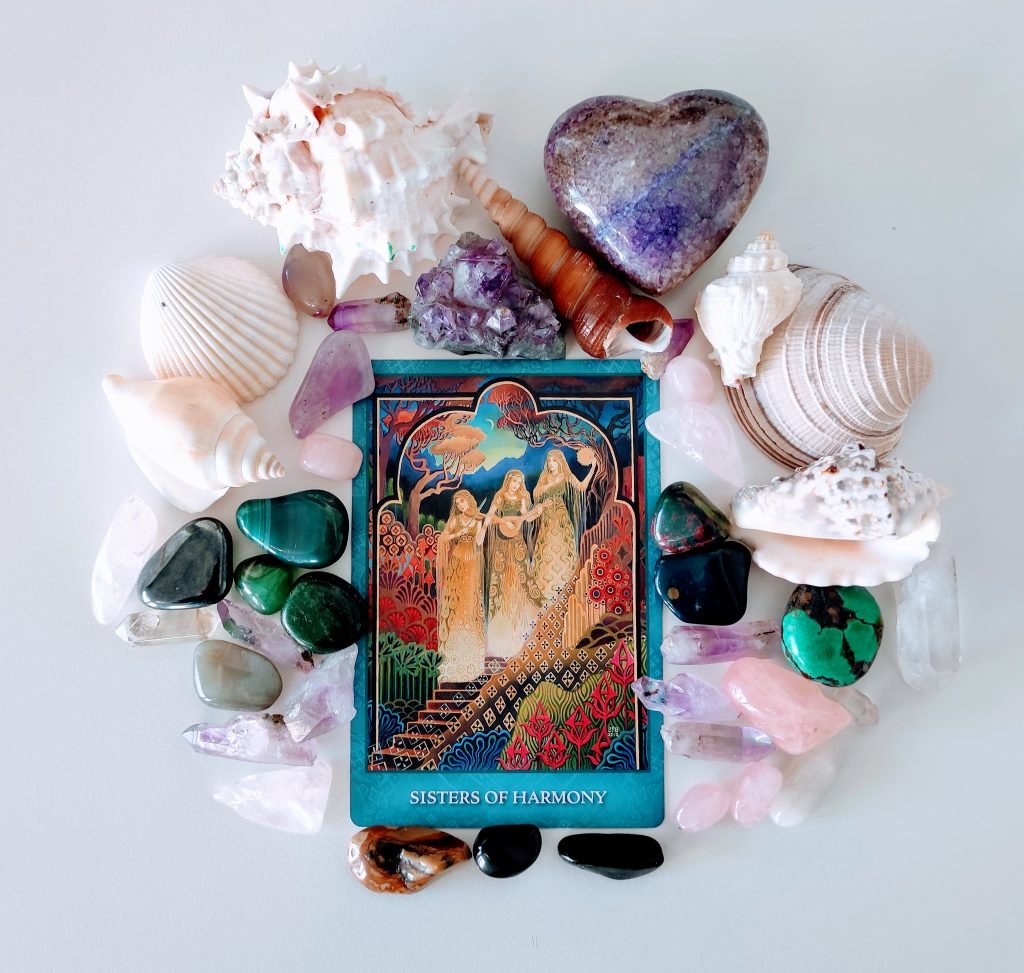 We wanted to review the Mystic Sisters Oracle Deck because it is one of our favorites! So, here you go! We're happy to be helping you find the best oracle cards for you!
I was drawn to this deck for it's depiction of many of the Goddesses, but discovered other wonderful surprises inside. The artwork is beautiful and the messages are well-written and thoughtful.
When we review tarot and oracle cards like The Mystic Sisters, we give you personal and thoughtful insights that will help you to choose the perfect oracle deck for you!
It is important that a tarot or oracle deck resonates with you. Your tarot or oracle deck needs to fill you with inspiration and connect you to your intuition. This is a very personal choice, so the more you know, the better!
Size and Feel of the Mystic Sisters Oracle Deck
The Mystic Sisters oracle deck has large cards, which is nice because the images are very detail oriented and colorful. This way you can really get the full impact of the art. But, if you have small hands like me, you will have to adjust your shuffling style.
The card stock is thick, so the cards are definitely high quality and sturdy. Well suited for photography and video, these cards have a matte finish, so they don't give off any glare. For those of you aspiring tarot and oracle card readers, this is an important feature for any live online reading.
Artwork of the Mystic Sisters Oracle Deck
The artwork of the Mystic Sisters Oracle Deck is ornate, symbolic and colorful. The illustrations are vibrant, yet the color pallet is always tasteful and elegant. The artwork also accurately expresses the meaning of the card, with depictions that are layered with meaning and not superficial. All in all, the illustrations are very feminine and delicate, yet powerful in their message.
Messages in This Oracle Deck
Why do we use tarot and oracle cards in the first place? Quite simply, in order to find inspiration and guidance for high-vibe living!
In the same way that many of us find positive inspirational quotes and affirmations helpful as we journey our sometimes challenging lives, tarot and oracle cards ought to give us the same inspiration!
The messages in the Mystic Sisters Oracle Deck are beautiful and profound, and they do challenge us to choose a path of ascension and enlightenment. Accompanying the deck is a small booklet with well-written explanations and guidance.
Special Cards in This Oracle Deck
For example, The Magical Key card of this deck offers evolved advice for those of us struggling through a period of darkness. The card depicts a young woman lost in a dark forest. She doesn't seem to know how to find her way out. However, above her hovers the white dove of peace holding a key in its beak.
The message is one of not giving up hope during challenging times, because our challenges are the learning ground of the heart. Hope is always right around the corner. In darkness, be the light, for we do not bring light to the dark forest by darkening ourselves. Especially in challenging times, be the inspiration, be the beacon of hope for yourself and for others. Cards like these will help you to remember to release the darkness so the light shines in. For we are infinite possibility, we just have to remember it.
Price of the Mystic Sisters Oracle Deck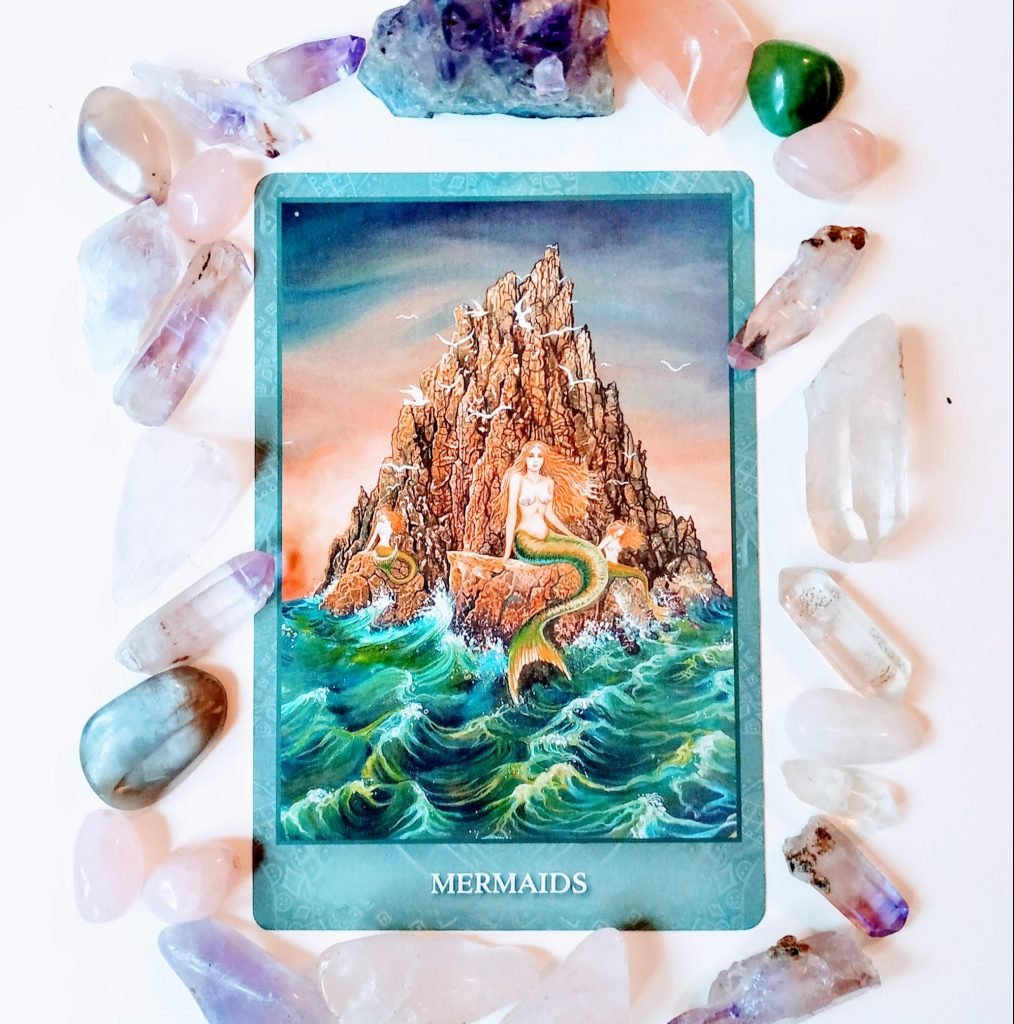 For the quality of the cards, this oracle deck is well priced. It definitely lands at the mid-lower price range, in spite of being made of high quality card stock. Depending on where you are shipping the cards to or ordering from, the price of the Mystic Sisters Oracle Deck hovers around $20.00 USD.
There are oracles decks out there for less, but usually these cards are very thin or their images are not as high resolution. On the other hand, there are some oracle cards out there between $50-$100 USD, so this is definitely a reasonable option.
Is the Mystic Sisters Oracle Deck Great for Kids? Yes/No
This deck is probably too advanced for young children, but is fully appropriate for teens and young adults. The messages are complex, but for inquisitive and thoughtful minds, these cards will provide guidance that is uplifting and evolved. Learning the lessons in this oracle deck will support and inspire younger readers.
Final Thoughts On The Mystic Sisters Oracle Deck
In the end, you always need to listen to your intuition when choosing the best tarot and oracle decks. But now that you've got the details out of the way, you can make a decision from your heart. The Mystic Sisters oracle deck will definitely help you seek answers in your stillness and take action toward your dreams!
We hope you've enjoyed this review and find the information helpful! We would love to hear your thoughts on this beautiful oracle deck!